Social Equity & Sustainabilty
Commitment to Anti-Racism
We are called to action by the atrocities happening to Black Americans. We're grateful to the crafting community for the conversations that have been happening through social media and to the powerful voices who are leading the Black Lives Matter movement. We all have our parts to play in this; It is important to us to use our small business in whatever ways we can to actively support anti-racist efforts.  
Katrinkles continues to be committed to social change. Thanks in part to your purchases we make monthly donations to organizations such as Stop AAPI Hate, Color of Change the ACLU and NAACP, and we host rotating, product based fundraisers quarterly. There are many more organizations deserving of time and money.  We will continue to expand our efforts.  
Katrinkles stands in solidarity with those fighting for justice. We're committed to thinking about this and working on this. We are evaluating ways we can continue to do our part to dismantle the structures of white supremacy, to being actively anti-racist and to being effective allies in the fight for justice for Black people in America. 
Katrinkles is proud to work with and support BIPOC-owned businesses (Black, Indigenous, and People of Color). We support crafting as a diverse, inclusive, accessible, safe and welcoming activity for people of all ages, abilities, ethnicities, genders, religions, orientations, and sizes. 
Anti-Racism Action Items
Making recurring monthly and rotating donations for ongoing support to organizations that work towards social justice.
Educating ourselves through listening, learning and reading.
Housing a lending library of anti-racist resources and books by black authors in the Katrinkles studio, available for employees and friends to borrow.
Supporting and promoting black owned businesses, such as those mentioned in this article. (Some of our favorites: Fully Spun, Twisted Urban,  Neighborhood Fiber Co and Urban Girl Yarns. Check them out!)
Periodic special product based fundraisers to raise money for charities supporting social justice.
Prioritize diversifying our Katrinkles team and building our internship program. (Update: We are currently working with two interns from The Met School in Providence).
We commit to using our platform and privilege for social change. 
These actions are part of a developing and evolving list. We're just getting started and are committed to doing better and to working at this.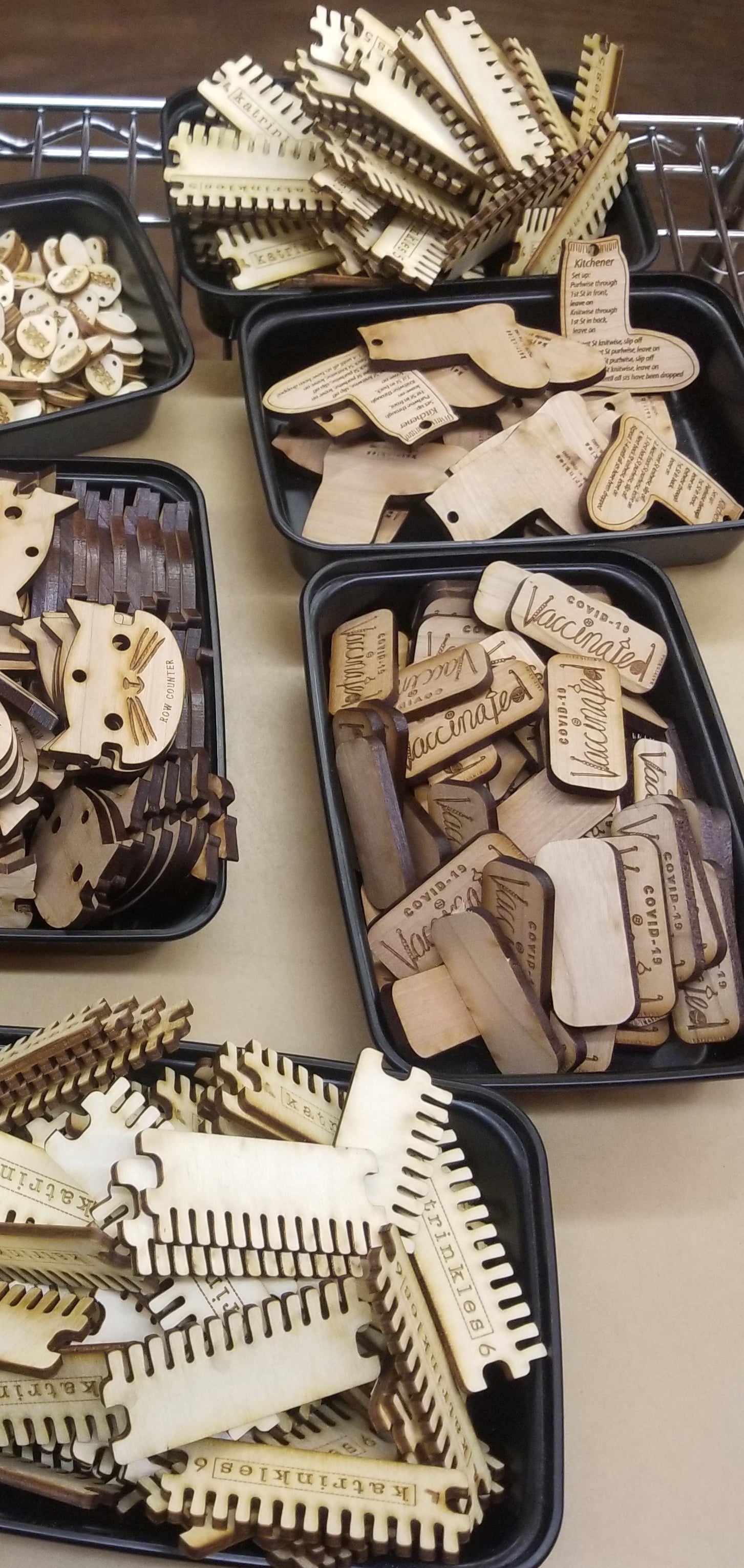 Sustainability Action Items
Katrinkles is proud to provide crafters with high quality, durable tools that can be used for a lifetime. We're committed to improving our environment and are constantly brainstorming ways we can do better. These actions are part of a developing and evolving list of ways that we're working on environmental sustainability:
Using certified sustainable woods whenever possible
Sourcing materials locally whenever possible to reduce carbon emissions from shipping and transport
Our button cards and product packages are printed locally on recycled and recyclable paper. Wherever possible, we design packaging to be durable and useful enough for long term storage in addition to protecting the product during shipping
Our plastic sleeves are made from PLA, which is plant based and Certified Compostable
We recently created the coupon code, NOBUTTONPACKAGING, which offers customers the option to receive their buttons in a small, glassine bag instead with a 10% discount as an incentive
Using paper tape instead of plastic tape to seal our shipping boxes and replacing bubble mailers with a recyclable shipping envelope that is made of 100% recycled paper
We try to recycle and reuse our waste materials wherever possible. This includes designing our cutting towards getting most of each piece of wood we use. Any interesting shapes that come off of our laser machines that we can't use for cutting other products are donated to Resources for RI Education. Our burnable wood scraps are distributed to neighbors for home heating and to local restaurants who use wood fires for cooking. We send our acrylic scraps to a facility to be recycled Please contact us for more information if you're interested in cherry scraps or wooden shapes.
We use two filtration systems in our studio to limit the fumes we're releasing into the atmosphere