About Katrinkles
As an independent, female owned and operated business, Katrinkles is proud to provide crafters with high quality buttons and tools for their projects. Our goods are made from durable locally sourced hardwoods like cherry and alder and are finished by hand, giving each piece its unique character. From design to production to packaging, all our products are made in house by our small dedicated team, allowing us to maintain our high standards of quality control and attention to detail at every step. You can feel confident that when you use a tool from Katrinkles, you are using something made with the same level of care that you put into the things you make.
We encourage makers everywhere to be creative by supplying them with unique goods that enhance the joy of making. We are crafters and artisans ourselves, so we know that the right tool can be an inspiration. A thoughtfully designed, well crafted tool facilitates workflow and can reveal new creative pathways. Simply put, our goal is to provide you with the best tools so that you can do your best work.
Katrinkles is committed to equity in the studio and beyond. Your purchases help us pay our workers a living wage, provide company health insurance and contribute to their retirement, as well donate to charities that are committed to the kind of social change we want to see in the world. We aim to support the local and regional economy wherever possible by working with other small businesses in our supply chain.
Read More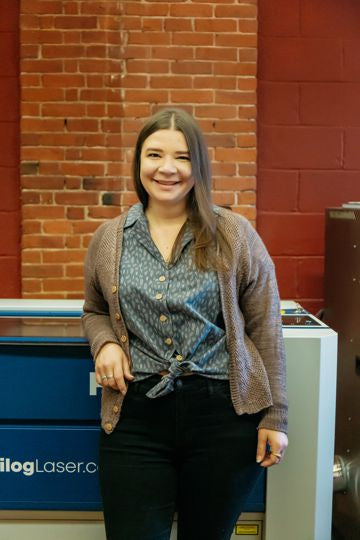 About Katy
After graduating from RISD with a degree in Jewelry and Metalsmithing, Katy worked for a goldsmith in NYC before moving back to Rhode Island to design costume jewelry. A workshop in laser cutting led her to button making, the intersection of jewelry and fiber arts.
In addition to knitting, spinning, sewing, drawing and crocheting, Katy loves visits to the beach in all seasons, exploring local breweries and taking long walks with her rescue pup.